Treatment for Children with Cognitive Impairments
Rehabilitative Community Support Program Description
Maine Vocational and Rehabilitation Associates' Children's Services Program provides in-home and community support for children, teenagers and young adults between birth and 21 years old who have been diagnosed with a developmental disability. To qualify for services, the child must be a recipient of MaineCare and have a developmental disability that affects their everyday functioning. The program is designed to assist children, teenagers and young adults with developmental disabilities learn life, social, and behavioral skills particular to the individual's needs. Establishing a respectful working partnership with the child and their family is a primary goal of MVRA. MVRA recognizes the importance of family involvement for services to be meaningful and allow for positive change to occur.

Getting Started
To begin services, a child's Case Manager or parent will make a referral, through
Maine's Office of Child and Family Services
, for the child to receive MaineCare Section 28, Rehabilitative and Community Support Services for Children with Cognitive Impairments and Functional Limitations (RCS).
What is Next?
Once it has been established that the child is qualified for Section 28 Services and MVRA has received a referral from Maine's Office of Child and Family Services, MVRA's Children's Services Program Coordinator will make an appointment to complete a Comprehensive Assessment with the child's parent or guardian and, if possible, the child. This is important tool which allows family members to share information regarding the child's strengths and also helps identify areas that the child would benefit from receiving additional support. An Individual Treatment Plan will be written based on the assessment and will serve as a blueprint for how your child will meet his or her goals, allowing them to become more independent both at home and the community.

Role of Staff
Children will work one-to-one with a qualified staff person whose role is to assist the child with attaining objectives and goals identified by the child and parent as outlined in the child's Individual Treatment Plan. To assist children and young adults with becoming as independent as possible, staff will work both in the home and out in the community. Staff will use their own vehicle to transport the child to activities. Hours of service vary. Typically, staff works with children after school for a few hours each day with possible weekend hours. The staffing schedule will vary depending upon the client's needs.

Rehabilitative Activities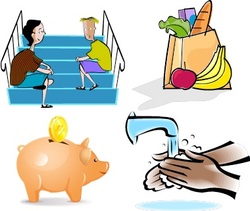 Staff will provide opportunities for the child or young adult to learn, practice, or improve their daily functioning skills. Participants in MVRA's Children's Program enhance their social skills by participating in activities with their peers such as playing board games, bowling, taking walks in their community, and other group activities. Participants learn or improve independent living skills by participating in weekly cooking classes and accessing public places like parks, banks, and local grocery stores. Participants are encouraged to become more self-aware with staff providing behavior management while encouraging the child or young adult to use appropriate coping strategies as necessary. Participants work with staff support in the home to improve personal hygiene if that is an area of concern and to acquire independent living skills such as cooking, laundry and other household responsibilities.

---
Examples of some other therapeutic activities are:
Communication & Socialization ~ Community Access & Safety Skills ~ Organizational Skills ~ Independent Living Skills ~ Behavior Management as well as Personal Hygiene & Dressing Skills

Services are provided by certified BHP Staff (Behavioral Health Professional)
Service Areas
MVRA Provides Section 28 Services in the following counties:
York and Cumberland
Samantha Bazinet
59 Preble Street
Portland, ME 04101
(207)774-4248
E-Mail